At least 20 people have been arrested in Norway on pedophile charges, officials say, adding that the suspects include lawyers, economists and even a primary schoolteacher. Reports claim the case also involves politicians and a police officer.
Thirty-one people are also currently under investigation, Deputy Police Chief Gunnar Fløystad said. 
"It is not one case, but several serious cases that we have been investigating for a long time. We can talk of several networks,"he said, as cited by Aftonbladet newspaper.
According to Fløystad, many suspects are highly -educated and have good IT skills.
Verdens Gang tabloid reported that among those under investigation was a police officer. Police raided his house but didn't arrest him, the tabloid added. Fløystad declined to comment on the matter. 
The list of those investigated on pedophile charges include two former or current politicians, Tidens Krav newspaper reported. 
Police seized some 150 terabytes of material revealing many forms of child abuse. The offenders met on the web and used encryption to protect their anonymity.
"The materials show abuse of children of all ages, also infants," said Hilde Reikrås, head of police operations on the case, said as cited by Tidens Krav. She added that the materials depicted "abuse of toddlers, children being tied, children who have sex with animals and children who have sex with other children."
The cases include rape, trafficking and production of photos and videos of child abuse. Local media reported that some suspects allegedly abused their own children and one suspect even planned to let others moles his unborn child.
Leading prosecutor in the case Janne Ringset Helme added that all the perpetrators were men.
The investigation to reveal the pedophile network in Norway, dubbed 'Dark Room', began back in 2015. It was launched after reports emerged that a 22-year-old man had sexual intercourse with girl aged 14 in the city of Bergen. The man was taken into custody and police seized a large amount of abuse material on his computer.  Source RT
---
Police expect more arrests in Norway's largest paedophile probe
GERMAN PRESS AGENCY – DPA  

22 hours ago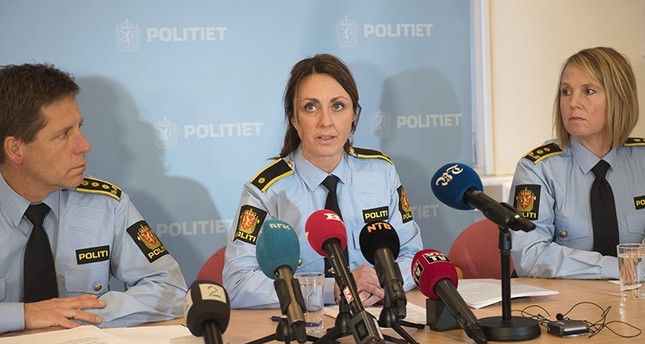 Deputy Police Chief Gunnar Floystad (L), investigation leader Hilde Reikeraas (C) and prosecutor Janne Heltne (R) at a press conference on the pedophile network case
Norwegian police said Tuesday they expect more arrests in connection with a probe into 51 men linked to what they believe is the country's largest paedophile ring to date.
Police in the west coast city of Bergen on Sunday disclosed they had made 21 arrests and secured three convictions.
Investigations were ongoing in other parts of the country. A man in his 60s was arrested Tuesday in the northern region of Finnmark.
The suspects – including lawyers, students, and businessmen – shared images and videos, including live web camera feeds of abuse. Some showed abuse of infants, police said.
A total of 5,000 user accounts have been traced and the case was "shockingly large," lead investigator Hilde Reikras told Norwegian broadcaster NRK.
The investigation began in January after police found suspect chat conversations on a 22-year-old man's computer after his arrest in 2015 over having sex with a 14-year-old girl.
The chats were traced to the dark web, a hidden part of the World Wide Web that does not show up on ordinary search engines, like Google, and users are anonymous.
The probe has been dubbed Dark Room.
In one chat documented by investigators, two men discussed abducting a young girl. Other suspects asked for live feeds of abuse.
Minors in both Norway and the Philippines were reportedly abused.SOURCE
---
READ MORE
READ EVEN MORE